The Wedding Company of Niagara
905-371-3695 or Toll Free: 1-877-641-3111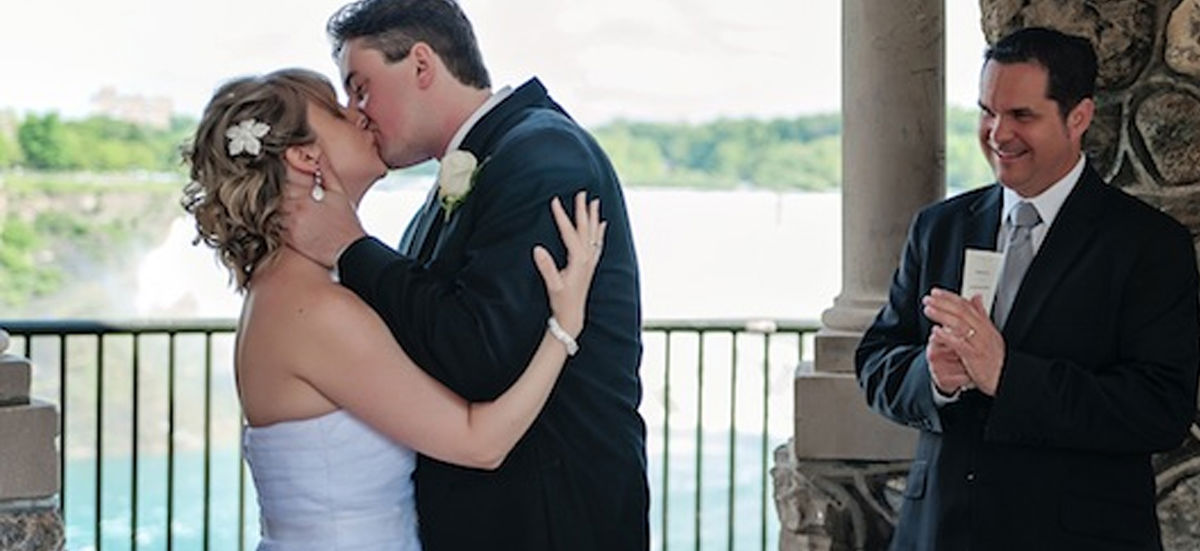 Our Officiants
Rev. Derek Rymarchuk

After Pastoring in New Brunswick for 5 years, Derek and Shelly moved to Niagara Falls in 1995 to Pastor Calvary Chapel.  A year later, they established the Wedding Company of Niagara, which has become one of the most recognizable names in the Wedding industry here in Niagara.  For the past 18 years, Shelly has personally coordinated weddings for over 26,000 brides and grooms from 45 different countries.  Their Company has been featured in many newspaper articles as well as TV programs, including the show: Marrying Well (WTN) as well as the Discovery and Travel Channels.  They are also 3 time nominees for Entrepreneur of the Year in the Niagara Region, winning the Runner Up award in 2007.  Derek and Shelly have been married for 22 years and they have 3 wonderful children, Devon, Luke and Kristen. They currently reside in the city of Niagara Falls.
Derek is a very kind, outgoing, and energetic person who views each and every couple as special and unique. His heartfelt ceremonies are simple and "to the point" but at the same time very memorable. He has always held to the philosophy of: "YOUR wedding, YOUR way."  He is also fluent in French, should you require a bilingual ceremony.
Derek's ministry affiliation is with Abba Ministries Canada:  www.abbacanada.org
Rev. Henry Verrier

For 14 years Rev. Henry Verrier has been an Associate Officiant with the Wedding Company of Niagara performing many weddings.He has Pastored numerous Churches, been a Director with his Denomination and been active in many Christian Ministries. Henry is a kind, outgoing gentleman who is very understanding when it comes to wedding ceremonies. His over 40 years of experience has allowed him to determine the needs of couples that he is working with and this flexibility has earned him the love and respect of brides and grooms from all over the world.
Henry currently resides in the city of Niagara Falls with his lovely wife Grace, and together they have raised a beautiful family. Often, they can be seen at the local parks or YMCA with grandkids in tow, a true reflection of their strong family values.
Rev. Dale Hiebert

Rev. Dale moved to Niagara Falls in 1995 and has pastored Niagara Christian Life Assembly, a vibrant and growing congregation located on Kalar Road.  He is also actively involved in the community and has been head of the Niagara Falls Ministerial Association for many years.  His wife of 28 years, Rosemary, is an accomplished musician and often accompanies Dale to weddings to perform piano and organ music.  They are a great team and a tremendous asset to the Wedding Company of Niagara. Dale's style is very laid back and relaxed and he has been involved in many "themed" weddings, such as beach, helicopter, and Niagara Whistleblower boat weddings.  He is also a motorcycle enthusiast, and so if you have an upcoming wedding and want to include your bike, please let us know.  Pastor Dale has performed well over a thousand weddings during his 30 years of ministry and has gained much experience in the weddings that has had the privilege to perform. Dale has studied and trained in building strong marriages and so it is his desire to see each couples day a special one, one that is blessed and will last a lifetime.
Rev. Andrew Rutledge

Pastor Andrew has been in ministry for 20 years. He has been officiating weddings since 2004 and has been living in Niagara since 2006. He has been married to his incredible wife, Christiane, since 2002. They have 4 kids, 1 cat, and a growing number of fish.
Andrew is a relaxed guy who enjoys helping couples celebrate the biggest day of their lives! When he's not working you can find him fishing, skiing, reading, napping, and hanging with his family.